Ricky Skaggs lyrics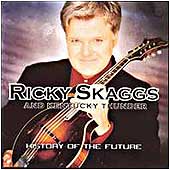 These country classic song lyrics are the property of the respective artist, authors and labels, they are intended solely for educational purposes and private study only. The chords provided are my interpretation and their accuracy is not guaranteed.
Ricky Skaggs lyrics are intended for your personal use only. He really loves country bluegrass and gospel, he's also an excellent instrumentalist. Many of his songs are up tempo and fun to play. He is a tremendous musician playing banjo, guitar, fiddle and mandolin not to mention being a great singer and composer.
Ricky learned the mandolin very early in life and was playing on stage with Bill Monroe at the age of six and at the age of 7 was playing with Lester Flatt and Earl Scruggs. He has never slowed down and the career he has is something to behold. If you love great bluegrass music he is one of the best and to listen to him pick and sing is a true treat.
We would like to extend our thanks to our visitors that have purchased products from our advertisers, it helps to offset some of the expense of maintaining our website. Amazon
is a good place to shop with a vast amount of products and great prices.
Low prices on Ricky Skaggs Cds
and easy to download MP3s
.
Ricky Skaggs lyrics
Could You Love Me One More Time
God Holds The Future In His Hands
Have You Someone In Heaven Waiting
Honey Won't You Open That Door
I Wouldn't Change You if I Could
I'm Lost And I'll Never Find The Way
Love Can't Ever Get Better Than This
Mama's Teaching Angels How To Sing
Shouting On The Hills Of Glory
Till The End Of The World Rolls Around
Your Selfish Heart Ricky Skaggs
Guitar Accessories
Strings-Picks- Straps Capos-Stands-Tuners
More Acoustic Guitars
More Electric Guitars