Hank Thompson Song Lyrics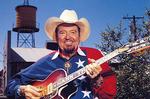 If you enjoy western swing music just listen to Hank Thompson and his band, The Brazos Valley Boys, they know how to make it come alive. He has so many great songs that is such fun to dance to as well as play and sing. Being born in Texas he idolized Bob Wills and his music is instrumental in keeping western swing alive as well as traditional country songs.
Hank Thompson deserved to be elected to the Country Music Hall of Fame in 1989. He passed away in November 2007 and has been such an inspiration to Western Swing and Country Music, he's given us so much wonderful music that will last for life times. He could bring a country dance hall alive.
These country classic song lyrics are the property of the respective artist, authors and labels, they are intended solely for educational purposes and private study only. The chords provided are my interpretation and their accuracy is not guaranteed.
How super it would be if more of the young artists coming along would learn more of them and keep them alive. So dust off your old trusted guitar
and teach a few youngsters about our kind of music. Use these free lyrics with chords to help you learn new country songs.
Type an artists name or song title in the space above for a quick search of Classic Country Music Lyrics website.
Low prices on Books
, Kindles
Classic Country Music Cds and Country Gospel Cds
.

Easy to download Classic Country MP3s and Country Gospel MP3s
most only $.99 or less.
Hank Thompson Song Lyrics
A Broken Heart And A Glass Of Beer

After All The Things I've Done

Could You Love Me Like You Used To

Don't Look Now (But Your Broken Heart Is Showing)

Gonna Wrap My Heart In Ribbons

Heading Down the Wrong Highway

I Could Love The Devil Out Of You

I Didn't Mean to Fall in Love With You

I Left My Gal In The Mountains

I Wouldn't Miss It For The World

It Gets More Like Monday Everyday

It's Better To Have Loved A Little

It's Christmas Every Day In Alaska

I'd Like To Have An Elephant For Christmas

I'd Have Never Found Somebody New

I'll Be Your Sweetheart For A Day

I'm Standing On The Outside Looking In

I've Convinced Everybody But Myself

Next Time I Fall In Love I Won't

Older the Violin the Sweeter the Music

On Tap In The Can Or In The Bottle

She's Just a Whole Lot Like You

Smoke Smoke Smoke That Cigarette

That's The Recipe For A Heartache

The Grass Looks Greener Over Yonder

When God Calls His Children Home

Who Left the Door to Heaven Open

Yesterday's Girl

If you want to change the "Key" for this song, click here for the easiest way possible. Copy and paste lyrics and chords to the key changer, select the key you want, then click the button "Click Here". If the lyrics are in a long line, first paste to Microsoft Word or a similar word processor, then recopy and paste to key changer.




Guitar Accessories
Strings Picks Straps Capos Stands Tuners
More Acoustic Guitars
More Electric Guitars