Ray Price Lyrics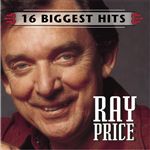 Ray Price is someone you never tire of listening to and goodness he has so many wonderful classic songs. It would be next to impossible to list all the songs he has recorded over the years and so many of them were great hits. We have some of his more famous song lyrics on this web site, browse these lyrics with chords, they are for those of you who may just be learning to play or maybe have forgotten exactly how the words are.
Ray's timeless music, super voice and innovative genius have yet to be equaled by any other singer in today's country music. After more than 50 years in the business he can still sing a song with the best of them whether it be honky-tonk, country, pop, blues, jazz or anything in between.
These country classic song lyrics are the property of the respective artist, authors and labels, they are intended solely for educational purposes and private study only. The chords provided are my interpretation and their accuracy is not guaranteed.
My wife sings and I play the guitar, we only do this at home but it's always a treat when we get to Ray Price's lyrics in our book. It's our passionate hobby and we take time every afternoon for it, singing makes us feel better. Get your family involved in playing and/or singing, you don't have to be good to enjoy participating.
We would like to extend our thanks to our visitors that have purchased products from our advertisers, it helps to offset some of the expense of maintaining our website. Amazon
is a good place to shop with a vast amount of products and great prices.
Low prices on Ray Price Cds
and easy to download MP3s
.
Ray Price Lyrics
All Right I'll Sign The Papers
Bright Lights And Blonde Haired Women
Broken Hearts Will Haunt Your Soul
Don't Let The Stars Get In Your Eyes
Don't You Ever Get Tired (of hurtin' me)
Don't You Go Loving Nobody Else
Happy Birthday To You Our Lord
I Don't Know Why I Keep Loving You
I Know I'll Never Win Your Love Again
I Lost The Only Love I Ever Knew
I Made A Mistake And I'm Sorry
I Wish I Could Fall In Love Today
If It's Love (Then Bet It All)
I'm Not Leaving (I'm Just Getting Out Of Your Way)
I'm Walking Slow (And Thinking About Her)
My Shoes Keep Walking Back to You
Take Back Your Old Love Letters
That's the Only Way to Say Good Morning
That's What I Get For Loving You
The Kind Of Love I Can't Forget
There's No Fool Like A Young Fool
This Ain't Just Another Rainy Day
What If He Don't Love You Like I Do
Who Stole That Train Off The Track
Whose Heart Are You Breaking Now
You Don't Care What Happens To Me
You Don't Love Me But I'll Always Care
You Just Don't Love Me Anymore
You Took My Happy Away
You're The Best Thing That Ever Happened To Me
Guitar Accessories
Strings-Picks- Straps Capos-Stands-Tuners
More Acoustic Guitars
More Electric Guitars