Billy Walker lyrics chords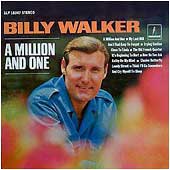 These country classic song lyrics are the property of the respective artist, authors and labels, they are intended solely for educational purposes and private study only. The chords provided are my interpretation and their accuracy is not guaranteed.
Billy Walker lyrics and chords are intended for your personal use only, they represent some of the very best classic country songs that are fun to learn to play and sing.
Billy Walker was a natural for the country music he loved and did so well. He was inspired at an early age by Gene Autry and began his music career as a teenager which spanned almost sixty years. He had many great hits and "I'd Like To Be In Charlie's Shoes" was his best known. He was a longtime member of the Grand Ole Opry where he loved entertaining his many fans.
We would like to extend our thanks to our visitors that have purchased products from our advertisers, it helps to offset some of the expense of maintaining our website. Amazon
is a good place to shop with a vast amount of products and great prices.
Low prices on Billy Walker Cds
and easy to download MP3s
Billy Walker lyrics with chords

A Fool And His Love Are Soon Parted

Can't You Love Me Just A Little

Don't Let Your Pride Break Your Heart

I Can't Say No If She Keeps Saying Yes

I Didn't Have The Nerve It Took To Go

I Taught Her Everything She Knows

I Wish I could Love That Much Again

If You're Happy Then I'm Satisfied

If You're Saving Part Of You For Someone Else

It's A Long Way Down From Riches To Rags

Let's Just Be Lovers And Leave Love Alone

Memories Can't Kiss Me Goodnight

Patanio The Pride Of The Plains

Pretend You Just Don't Know Me

Satisfy Me And I'll Satisfy You

She Goes Walking Through My Mind

The Honky Tonks Are Calling Me Again

Who Took My Ring From Your Finger

If you want to change the "Key" for this song, click here for the easiest way possible. Copy and paste lyrics and chords to the key changer, select the key you want, then click the button "Click Here". If the lyrics are in a long line, first paste to Microsoft Word or a similar word processor, then recopy and paste to key changer.




Guitar Accessories
Strings Picks Straps Capos Stands Tuners
More Acoustic Guitars
More Electric Guitars