Tom T. Hall lyrics and chords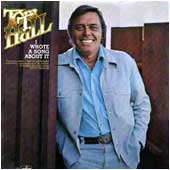 These country classic song lyrics are the property of the respective artist, authors and labels, they are intended solely for educational purposes and private study only. The chords provided are my interpretation and their accuracy is not guaranteed.
Tom T. Hall lyrics and chords are intended for your personal use only. He has written and recorded many excellent country songs. Maybe these country lyrics will remind you of your favorites.
The legendary Tom T. Hall is known as "The Storyteller" because of his great skills at storytelling in his songwriting. He started his own band as a teenager and through the years has given us hundreds of great songs to enjoy. Many well known artists have enjoyed recording his music and that in itself shows what a wonderful songwriter Mr. Tom T. Hall truly is.
We would like to extend our thanks to our visitors that have purchased products from our advertisers, it helps to offset some of the expense of maintaining our website. Amazon
is a good place to shop with a vast amount of products and great prices.
Low prices on Tom T. Hall
Cds and easy to download MP3s
.

Tom T. Hall lyrics

A Million Miles To The City

Back When Gas Was Thirty Cents A Gallon

Back When The Old Homeplace Was New

Everything From Jesus To Jack Daniels

Girl You Sure Know How To Say Goodbye

I Don't Want My Golden Slippers

I Flew Over Our House Last Night

I Left You Some Kisses On The Door

It Sure Can Get Cold In Des Moines

Old Dogs And Children and Watermelon Wine

Pinto The Wonder Horse Is Dead

If you want to change the "Key" for this song, click here for the easiest way possible. Copy and paste lyrics and chords to the key changer, select the key you want, then click the button "Click Here". If the lyrics are in a long line, first paste to Microsoft Word or a similar word processor, then recopy and paste to key changer.







Guitar Accessories
Strings Picks Straps Capos Stands Tuners
More Acoustic Guitars
More Electric Guitars