Johnny Paycheck lyrics and chords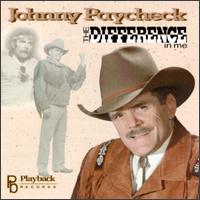 These country classic song lyrics are the property of the respective artist, authors and labels, they are intended solely for educational purposes and private study only. The chords provided are my interpretation and their accuracy is not guaranteed.
Johnny Paycheck lyrics and chords are intended for you personal use only. From gospels to honky tonk lyrics, he did it all.
Johnny Paycheck had a great gift and love for music and was playing in talent contests by the time he was 9 years old. He played bass and steel guitar for a time in George Jones band and sang tenor harmony with numerous well known country performers through the years. Johnny was credited with the development of George Jones' unique vocal phrasing not to mention writing many great songs such as "Apartment #9". Johnny left us with so many great songs to enjoy for eons to come.
We would like to extend our thanks to our visitors that have purchased products from our advertisers, it helps to offset some of the expense of maintaining our website. Amazon
is a good place to shop with a vast amount of products and great prices.
Type in an artist's name or song title in the space above for a quick search of Classic Country Music lyrics website.
Low prices on Books
, Kindles
Classic Country Music Cds and Country Gospel Cds
.

Easy to download Classic Country MP3s and Country Gospel MP3s
most only $.99 or less.
Low prices on Johnny Paycheck Cds
and easy to download MP3s
Johnny Paycheck lyrics with chords

21 Miles To Lake Charles Prison

Caught Between The Rock And A Soft Place

Closer Than I've Ever Been Beofore

Don't Monkey With Another Monkey's Monkey

Don't You Get Lonesome Without Me

Down At The Corner At A Bar Called Kelly's

Every Minute I Want Jesus By My Side

Everything You Touch Turns To Hurt

Heaven's Almost As Big As Texas

I Don't Need To Know Right Now

I Don't Know When That Will Be

I Don't Need To Know Right Now

I Grow Old Too Fast And Smart Too Slow

I Sleep With Her Memory Everynight

I Thought I'd Never Fall In Love Again

I'll Follow You On Up To Our Cloud

I'm Glad To Have Her Back Again

It's A Mighty Thin Line Between Love And Hate

Pardon Me I've Got Someone To Kill

She Don't Love Me All The Time

Talk About Me And See What She'll Say

The Creek Will Still Be Running

The Only Hell My Momma Ever Raised

The Rain Never Falls In Denver

Two Candles One Dinner and A Bottle

Your Love Is The Key To It All

You're The Only Song I Sing Today


If you want to change the "Key" on any song, click here for the easiest way possible. Copy and paste lyrics and chords to the key changer, select the key you want, then click the button "Click Here". If the lyrics are in a long line, first paste to Microsoft Word or a similar word processor, then recopy and paste to key changer. This software was developed by John Logue.