The Oak Ridge Boys
lyrics and chords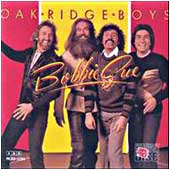 These country classic song lyrics are the property of the respective artist, authors and labels, they are intended solely for educational purposes and private study only. The chords provided are my interpretation and their accuracy is not guaranteed. The Oak Ridge Boys lyrics and chords are intended for your personal use only.
The Oak Ridge Quartet a gospel oriented group was founded in 1945 becoming quite popular during the 1950's. In the early 1960's the group changed their name to the Oak Ridge Boys and remained a gospel group until the mid 1970's when they changed their image and concentrated more on pop and country music.
They are best known for the huge hit "Elvira" which became a household song. The quartet's current members who continue to give us such great music are lead singer Duane Allen, tenor Joe Bonsall, baritone William Lee Golden and bass Richard Sterban. Whether it be gospel, country or pop these guys can do it all and so very well.
We would like to extend our thanks to our visitors that have purchased products from our advertisers, it helps to offset some of the expense of maintaining our website. Amazon
is a good place to shop with a vast amount of products and great prices.
Type in an artist's name or song title in the space above for a quick search of Classic Country Music lyrics website.
Low prices on Books
, Kindles
Classic Country Music Cds and Country Gospel Cds
.

Easy to download Classic Country MP3s and Country Gospel MP3s
most only $.99 or less.
Low prices on Oak Ridge Boys
and easy to download MP3s
The Oak Ridge Boys lyrics with chords
A Little Late To Say Goodbye
Come On In You Did The Best You Could Do
Dig A Little Deeper In The Well
Heart On The Line (Operator Operator)
I Can't Imagine Laying Down With Anyone But You
I Guess It Never Hurts To Hurt Sometimes
I Wish You Could Have Turned My Head
I Wish You Were Here (Oh My Darlin')
I Would Crawl All The Way To The River
I'll Shake The Hand Of The Lord
It Could Have Been Ten Years Ago
It's Christmas Time Once Again
Leaving Louisiana In The Broad Daylight
Never Together But Close Sometimes
No Way Out
Old Time Family Bluegrass Band
Private Lives

Remind Me Dear Lord
She's Not Just Another Pretty Face
There Must Be Something About Me That She Loves
What A Time We Will Have Over There
When The Savior Reached Down For Me

If you want to change the "Key" on any song, click here for the easiest way possible. Copy and paste lyrics and chords to the key changer, select the key you want, then click the button "Click Here". If the lyrics are in a long line, first paste to Microsoft Word or a similar word processor, then recopy and paste to key changer. This software was developed by John Logue.