Kris Kristofferson Lyrics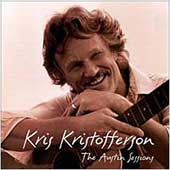 These country classic song lyrics are the property of the respective artist, authors and labels, they are intended solely for educational purposes and private study only. The chords provided are my interpretation and their accuracy is not guaranteed.
Kris Kristofferson lyrics are for your personal use only, Kris is a great entertainer and an exceptional songwriter.
We all know Kris Kristofferson as a singer, songwriter, musician and actor. His genres are folk, country, rock and outlaw country. He plays the guitar, piano, and harmonica and is the sole writer on most of his many many songs. He has received numerous awards throughout his long lustrous career and was inducted into the country music hall of fame in 2004 which was much deserved.
Type in an artist's name or song title in the space above for a quick search of Classic Country Music lyrics website.
Low prices on Books
, Kindles
Classic Country Music Cds and Country Gospel Cds
.

Easy to download Classic Country MP3s and Country Gospel MP3s
most only $.99 or less.




Low prices on

Kris Kristofferson's Cds

and easy to download MP3s.


Kris Kristofferson lyrics
Good Love Shouldn't Feel So Bad
How Do You Feel About Fooling Around
If You Don't Like Hank Williams
It's All Over (All Over Again)
It's Never Gonna Be The Same Again
I'll Take Any Chance I Can With You
Just The Other Side Of Nowhere
Lay Me Down And Love The World Away
Prove It To You One More Time Again
The Bigger The Fool The Harder The Fall
Who's To Bless And Who's To Blame
Below are a few songs written by Kris and recorded by other artists
Best Of All Possible Worlds Roger Miller
Enough For You Ray Price
For the Good Times Ray Price
From The bottle To The Bottom Billy Walker
Help Me Make It Through The Night by Sammi Smith
I'd Rather Be Sorry Ray Price
Jody And The Kid Roy Drusky
Kiss The World Goodbye Ray Price
Loving Her Was Easier Bobby Bare
Moment Of Forever Willie Nelson
Once More With Feeling Jerry Lee Lewis
One Day at a Time Connie Smith
Please Don't Tell Me How The Story Ends Ronnie Milsap
Stranger Johnny Duncan and Janie Fricke
Sunday Morning Coming Down Johnny Cash
The Taker Waylon Jennings
When Are You Ever Gonna Learn Faron Young
Your Times Coming Faron Young

If you want to change the "Key" on any song, click here for the easiest way possible. Copy and paste lyrics and chords to the key changer, select the key you want, then click the button "Click Here". If the lyrics are in a long line, first paste to Microsoft Word or a similar word processor, then recopy and paste to key changer. This software was developed by John Logue.