Roger Miller lyrics and chords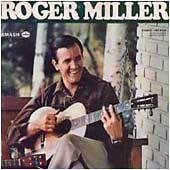 Roger Miller was a tremendous songwriter as well as musician and actor. He is most recognized for writing novelty tunes such as "Dang Me" but had many beautiful songs including "Husbands and Wives" which Brooks & Dunn have a super rendition of. He was quite the entertainer and left us with many great songs that we still enjoy playing and singing.
These country classic song lyrics are the property of the respective artist, authors and labels, they are intended solely for educational purposes and private study only. The chords provided are my interpretation and their accuracy is not guaranteed.
These Roger Miller lyrics and chords are intended for your personal use only. He was a funny and very talented guy, we miss him.
We would like to extend our thanks to our visitors that have purchased products from our advertisers, it helps to offset some of the expense of maintaining our website. Amazon
is a good place to shop with a vast amount of products and great prices.
Type in an artist's name or song title in the space above for a quick search of Classic Country Music lyrics website.
Low prices on Books
, Kindles
Classic Country Music Cds and Country Gospel Cds
.

Easy to download Classic Country MP3s and Country Gospel MP3s
most only $.99 or less.
Low prices on Roger Miller Cds
and easy to download MP3s
Roger Miller lyrics and chords

A Man Like Me

Dad Blame Anything A Man Can't Quit

I'll Pick Up My Heart And Go Home

I've Gotten Used To The Cryin'

It Takes All Kinds To Make A World

It's A Miracle That You're Mine

Leaving's Not The Only Way To Go

My Ears Should Burn When Fools Are Talked About

My Uncle Used To Love Me But She Died

Our Hearts Will Play The Music

Some Hearts Get All The Breaks

That's The Way It's Always Been

That's Why I Love You Like I Do

What I'd Give (To Be The Wind)

Where Have All The Average People Gone

You Can't Do Me This Way (And Get By)

You Can't Roller Skate In A Buffalo Herd


If you want to change the "Key" on any song, click here for the easiest way possible. Copy and paste lyrics and chords to the key changer, select the key you want, then click the button "Click Here". If the lyrics are in a long line, first paste to Microsoft Word or a similar word processor, then recopy and paste to key changer. This software was developed by John Logue.